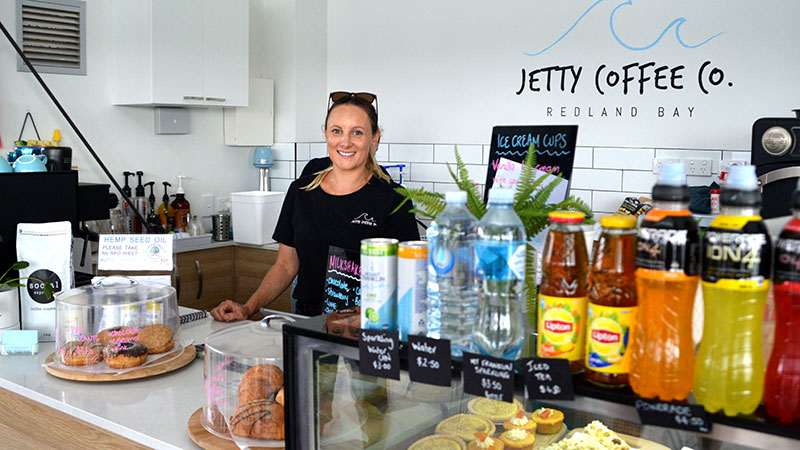 Since opening in December 2018, Jetty Coffee Co has received a wonderful response from Redland Bay locals, Southern Moreton Bay Island residents and visitors alike.

Situated at the far end of the Redland Bay Marina, and with magnificent views across the bay, the café serves as a hub for those travelling to and from Russell, Macleay, Lamb and Karragarra Islands, as well as being a peaceful place to sit and watch the ferries drift in and out of the marina.

Café owner, Mel Worrad, said her favourite part of the location is the stunning views and meeting other locals. "It's a beautiful spot to sit and look out at the water", she said. "We are in a position that a lot of locals can walk to. We get a lot of customers who walk along the Broadwater."

Mel has been a Redland Bay local for the past 10 years, previously owning a café in the Logan Hyperdome. But she always dreamed of owning a café near the water. "I wanted to stay local to the Redland Bay area, and somewhere by the water was definitely a goal."

The café's house blend coffee is a hit with customers, as well as the wide range of both hot and cold food options. If you have a sweet tooth, the café serves locally sourced, homemade raw vegan cakes and slices. Or why not try the croissants, fresh from a nearby bakery, and come with a range of delicious fillings.

The café recently hosted a 'Coffee with a Cop' event, where locals had the opportunity to sit down with local police officers and have a friendly chat about issues they felt were important in the area. The event was designed to bridge barriers between the police and the community.

For the future, Mel said she hopes to add more food options, including hot chips for winter, and healthy breakfast options such as acai bowls.

Jetty Coffee Co is open Monday to Friday 6am to 4pm, Saturdays 7.30am to 2pm and Sundays 8am to 1pm. 

The café receives text orders to 0436 118 343. Don't forget to text your name and estimated time of arrival to pick up.