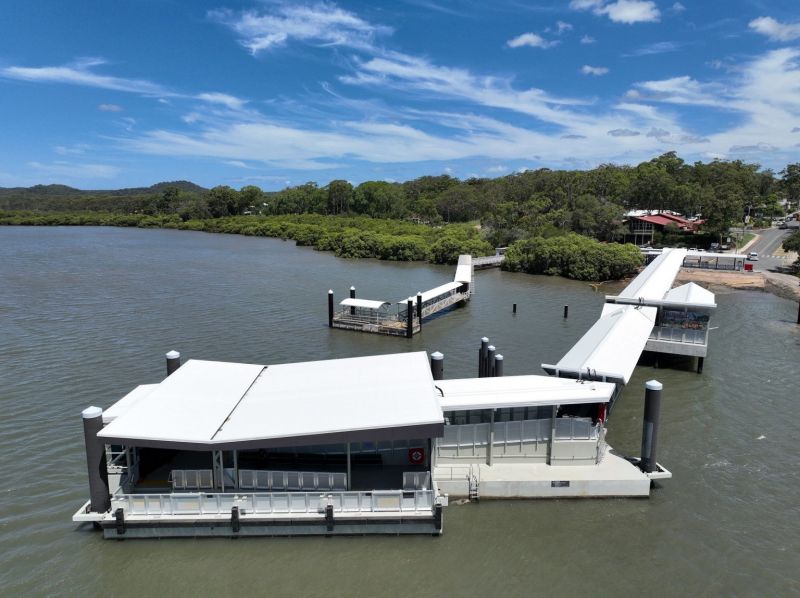 Russell Island's new ferry terminal is ready for passenger services.

Transport and Main Roads Minister Mark Bailey said the opening was a major milestone in the Palaszczuk Government's $48.6 million program to upgrade terminals across the Southern Moreton Bay Islands.

"Russell Island's new terminal is ready to go, which is a big boost for the Bay Islands," Mr Bailey said.
"We're not stopping here either – the Palaszczuk Labor Government is working with Redland City Council to build new terminals at Macleay, Lamb and Karragarra islands as well.

"It comes as part of our nearly $3.9 billion, four-year transport and road plan for Greater Brisbane, supporting 3280 good, secure jobs."

Member for Redlands Kim Richards said the new terminal's first service departed Russell Island at 11am on 6 February 2023.

"Sealink masters recently gave the new facility the tick of approval after successfully completing sea trials, which is really exciting news for the Bay Islands," Ms Richards said.

"But we're continuing to upgrade the facility – next, crews will be dismantling the temporary access gangway and repurposing it for recreational boating.

"The last stage will focus on landside works, and will include completing the new amenities block.

"The Palaszczuk Labor Government is getting on with building new ferry terminals, making it easier for our coastal communities to get around.

"We're delivering better services all over the state, helping Queenslanders spend more time enjoying our great lifestyle."

A grand opening to mark the completion of the new Russell Island ferry terminal final stage is planned for April 2023.

Important upcoming milestones for the other Southern Moreton Bay Islands included a passenger switchover for the new Macleay Island ferry terminal, along with pontoon float-outs for Karragarra and Lamb islands, all scheduled for April.

Redland City Mayor Karen Williams said the switchover marked an important step for what was a landscape-changing project.

"It is fantastic to see our residents and visitors take the first step in using a new ferry terminal that will set the scene for our ever-developing Southern Moreton Bay Islands," Cr Williams said.

"The terminal's quality and design will allow users a much-improved transport experience linking the SMBI to the rest of Redlands Coast while providing customers with ample room to move and a spacious and well thought out, accessible waiting area.

"This milestone is just one in a series of coming celebrations as the project continues."

Division 5 Councillor Mark Edwards said it was great to see the terminal combined practical design with art that honoured each island's proud First Nations heritage.

"The Redlands Coast now boasts a ferry terminal infrastructure that reflects its rich cultural heritage," Cr Edwards said.

"I am pleased to see Quandamooka art give life and colour to the terminal with its striking weather protection panels.

"Not only will users be protected from nature's elements but their journeys also will be enhanced with greater amenity.

"The dynamic, dolphin motif will be unique to Russell Island, with Karragarra, Lamb and Macleay islands to have their own designs and colour schemes.

"We thank the State Government for its sensitive community consultation and close work with Quandamooka Yoolooburrabee Aboriginal Corporation, which ensured the unique design."

Overall works on the four new terminals are planned for completion in mid 2023.

The Southern Moreton Bay Islands Ferry Terminals Upgrade project is a jointly funded $48.6 million project, with the Queensland Government contributing $31.5 million and Redland City Council contributing $17.1 million.