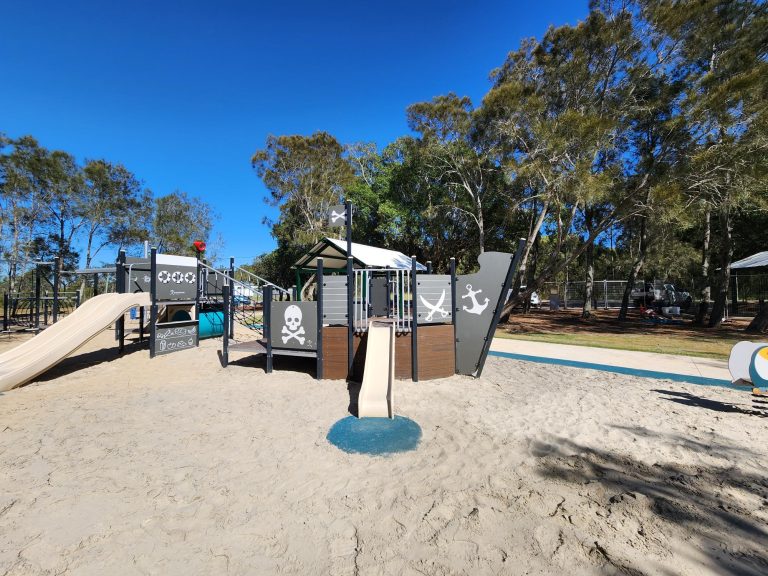 Children visiting Russell Island's Lions Boulevard Park will be roaring with delight with the upgrade of playground equipment, recently installed between Sandy Beach and nearby boat launching area.

Redland City Mayor Karen Williams said the installation was completed in mid-April.

"Families and visitors will enjoy using these new park facilities, making the most of our great southern Moreton Bay weather to picnic, play or simply enjoy being outdoors," Cr Williams said.

"With new shelters and table settings, a water bubbler, double barbecue and sandstone block seating, the area is the ideal location to play host to birthday parties, lunches and other family get togethers.

"The approximate $400,000 upgrade improves the marketability and utilisation of the park and campground, providing great community facilities for residents, while bringing increased visitation to the island communities."

The improvements have been developed with the support of the Queensland Government's Department of Agriculture and Fisheries' Fishing Infrastructure Grants Program.

Division 5 Councillor Mark Edwards said the new playground equipment would be a great attraction for the park.

"The pirate ship themed playground equipment will be a big drawcard for families to bring their children to Lions Boulevard Park," Cr Edwards said.

"The new play area features a crow's nest climber, basket swing, spring toy, slides and pirate ship."

Lions Boulevard Park has a bookable waterfront camping area of two flat, turfed sites located toward its northern end, which are suitable for camping in tents only. The park is the only Council-run camping facility on Redlands Coast and can be booked through redland.qld.gov.au.