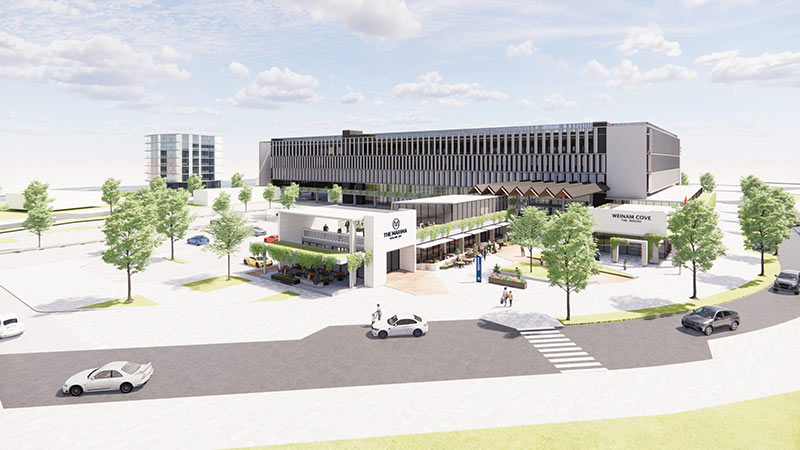 Redland City Council is making great progress in providing car parking at Weinam Creek during the phased rejuvenation of The Marina Redland Bay.

The redevelopment of the Weinam Creek Priority Development Area will transform it not only into a vibrant waterfront precinct but also an effective transport hub and gateway to the Southern Moreton Bay Islands (SMBI).

This includes more car parks for SMBI commuters.
Stage 1, which was completed in October 2020, delivered more than 500 new parking spaces within the Moores Road car park to assist immediately in reducing parking pressures.

The next stage of the project will create a new recreational boat ramp on the southern side of Weinam Creek.

This strategic stage will reduce traffic congestion and move boat trailer parking to the southern side of the creek, so valuable SMBI commuter parking can be dedicated closer to the Redland Bay Marina ferry terminal.

To provide the maximum amount of car parking for SMBI commuters during this construction phase, only 45 of the planned 90 boat trailer parks will be provided at the Moores Road car park; the remainder will become available when the multi-level car park is completed in a future stage.

To further reduce parking pressures during the next construction stages, more than 140 parking spaces will be provided in a temporary car park on Banana Street that will open in December, subject to approvals and weather constraints.

The temporary car park will provide easy access to the ferry terminal for SMBI commuters.

It will also help lay the foundations for the future commercial precinct, where the multi-level car park will eventually be located.

The number of car parks that will be available within the multi-level car park will be finalised following the expressions of interest process that is now open for a development partner to deliver the commercial precinct.

Construction of the multi-level car park is expected to start in mid-2025, and it is expected to open in late-2026.

Council is committed to providing as much parking as possible while the project progresses and further temporary car parks will be created to support future stages.

The Weinam Creek PDA redevelopment project is managed by Redland Investment Corporation, on behalf of Council.